There is one thing I can say about this Easter is that it crept up on me…it came and went…a little too quickly if you ask me…and I missed so many family members. This was the first Easter that so many family members weren't here. Every year we have Easter with our 5 kids (and boyfriends here and there) with my mother, aunt, Nana, cousin, twin sister, and little sister, and all of their kids… with a visit from in-laws and Greg's oldest daughter and her 5 kids (yep grandbabies…lol)  A nice fun filled house.
Well this year was a little different. The oldest daughter had to work…my little sister stayed in Columbus with her family while my mother went down there for a visit. My aunt and cousin had a small get together at their house, and my Nana since then has passed *sigh*.
Even though we did have family it just felt not complete, and although I am not the type of person to hold onto the past, I just miss all the kids being here…when they were smaller they had to choice ha ha! But now older away at college and jobs of their own…our lives are changing…it just seems unreal that I only have 2 children left in the home. My youngest, Frankie, was the only one who helped me stay within the spirit…I even forgot to decorate eggs until Saturday night at 10pm…oops…so I had her decide on the decorating.
I am a huge fan of Pinterest…I would have loved to have tried shaving cream dyed eggs or Kool-Aid dyed eggs, but she loves the trusty-ole Paas coloring kit *sigh*  ~ I was almost thrilled we she  was disappointed (I know bad mother) in the eggs…but this will help me next year (YAY)…we can try both!  I showed her the examples on Pinterest and now she can't wait…she even wants to just color eggs for the heck of it hee hee…hmm…just maybe!
Here was are night with egg dying…of course we didn't start out with many eggs…that requires actual planning!
She couldn't wait to try these kits…they do look cool, but unfortunately the sleeves to put on the eggs where too small and I didn't even have extra large eggs on hand!  What should I expect for $1.99?
You would think they would turn out bright…I even tried lemon juice because I heard they make the colors brighter (hey what the heck I am willing to try anything!)  We even left them in the cups for 20 minutes…and nadda…zip…boring 🙁
They we moved onto the next kit…tie-dyed…YAY…I have to admit I was excited for this one (can you hear my sarcasm…lol…they dye colors are the exact same as the first kit…so pale and boring…you can barely tell the color difference and then you couldn't even soak them awhile…I just felt bad for Frankie…so just maybe during Spring Break we are going to try a few different techniques we found on Pinterest…
Ta~Da!! I know…I know…your jealous right…ha ha…hey I have to give myself props that we even remembered to color eggs…just wait for the next post for our new and improved coloring techniques!  We are gonna rock by next Easter!
Now here is what we have decided to try this week during Spring Break (I am hoping to find the time…which I am pretty excited for this so I know I will be finding the time…) I do not have photo rights to the following images nor do I know who they belong to…I just wanted to make that clear…thnks!
These are my favorite! Even the colors….love love love polka dots!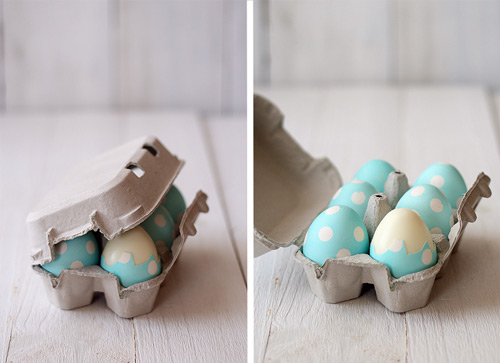 These are Frankie's favorite!  She's so excited!
And then we decided if we are that adventurous we would try a few more (hey ya never know 🙂 )